Mindfulness Schools
Make a difference in your school with easy and effective tools for the comprehensive development of students
Meditation in Schools
The IFSU Foundation with Ramón Leonato president of the Spanish Society of Meditation and Mónica Reyes coordinator of the Mindfulness Schools in Primary Education program, graduated from teaching and specialized in special education and mediation, They have developed a project whose aim is to introduce in schools and institutes of infant, primary and secondary (objectively measuring its effectiveness), training and advice in meditation and mindfulness techniques, as well as cognitive behavioral practices aimed at providing effective tools for development. integral of the student body.
We teach in English and Spanish as required
Emotional Education and Meditation in the Classroom
Easy and effective tools thanks to the PoU-MBSR method
Our Foundation carries out a series of social activities to sensitize and publicize our proposal to achieve personal balance, a higher level of productivity and well-being in life through the MBSR method and protocol that we have been teaching since 1976 .
Get in contact with us if you want to implement it in your center
Mindfulness for the little ones
Since 2013 when the first intervention was made at the Principe de Asturias Public School in Gijón, our foundation has been developing various programs aimed at introducing mindfulness and meditation techniques as well as emotional education into the educational system.
Since then we have directed various interventions in Institutes and Public Schools of Spain.
General Purpose
Develop a training plan, in which educators, families and students from Early Childhood through High School will participate in meditation and mindfulness techniques, with the aim that involves and incorporates these tools in their educational work and maintain it over time with the determined support of the IFSU Foundation.
"Knowing yourself is the beginning of all wisdom". Aristotle
Would you like your children to learn Mindfulness?
Contact us to implement our mindfulness project in classrooms through the APA
Are you a teaching center?
We give you all the facilities to implement our project in your school.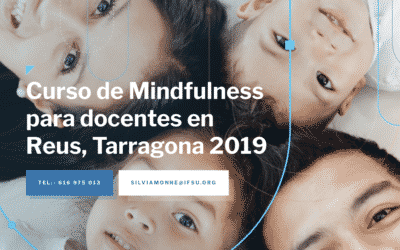 Certified Training 2019 Tarragona. Meditation course and conference in Reus. Training to implement meditation and mindfulness in the school environment. If you are a primary school teacher or have a relationship with children, this course interests you. We guide and ...
read more
Meditation Classes
Briarcliff Manor - New York
A Program to introduce mindfulness and emotional management training into the educational process.
This project is a consequence of the work of the last six years with the Social Services of the Castrillón City Council, the IES Isla de la Deva and Salinas of the Castrillón council, the Vallín and Castillo de Gauzón Public Schools of the same council and the staff of the Anti Plan -drug and Childhood of the City of Castrillón as well as teachers of the Spanish Society of Meditation and the IFSU Foundation, social workers of the Federation of the Gypsy Secretariat, and the project Feel of the Ikastola San Nikolas in Getxo.
The project is supported by various international experts in education (Dr. Vidya Anderson University of Tennesee and Dr. Merril Harmin, University of Illinois, Chicago).
Effective Tools to Face New Challenges
.
(SWOT Analysis)
Risk Factors (THREATS)
Misinformation

Social Networks

Media

Addictions (mobile, video games, alcohol, drugs ...)
Problems in Current Education (WEAKNESSES)
Less social cohesion

Less involvement of families

Bullying

Attention deficit

School failure

Less tolerance for frustration

Stress

Lack of principles and values
Virtues of Our Program (STRENGTHS)
Mindfulness

Empathy

Compassion / Self compassion

Resilience

Discernment

Kindness

Creativity

Positive self-concept
OPPORTUNITIES
Integral development of the individual

Critical thinking

Development of multiple intelligences

Lateral thinking

Inclusion and interculturality

Conflict resolution
Our Teaching Team
A determined and multidisciplinary cohesive team. Composed of educators, pedagogues, psychologists, nursery, primary and secondary teachers and creatives determined to share their years of experience in the educational world
Mindfulness in the Classroom
This project implements the teaching of mindfulness and emotional education (Meditation and Mindfulness), in Early Childhood, Elementary, Middle and High Schools .
Mission
This project aims to provide the best tools to develop these essential skills for students: concentration, resilience, introspection, visualization capacity, relaxation capacity, emotional education and development of the various intelligences.
  Mindfulness Schools we believe it essential to develop emotional intelligence From the first years of life, it will help them to understand themselves and others better. Promoting success in school and in life.
Vision
Introduce meditation techniques and mindfulness practices into the educational system, in order to facilitate the comprehensive development of the child who tomorrow will be the adult of the coming society.
Work crosswise, using different tools depending on the age of the students and favoring the recognition and management of emotions, as well as the internalization of the mechanisms that regulate social relations.
Objective
Develop a training plan, in which all students, educators, families will participate, based on meditation and mindfulness techniques, and emotional management.
Expand the experience of success achieved to date in the centers where this program has been implemented, to the greatest number of educational centers, and help these centers to maintain the program independently.
A Creative Initiative
One of the main global objectives of Mindfulness Schools is taking into account the large number of scientific studies that reports the benefits of meditation and to develop simple and adapted programs that allow extending these benefits in the educational process.
In an environment as crucial to the future of society as the education of our children, our program affects such important areas as the reduction of anxiety, stress, emotional stability and the construction of a balanced personality. In addition, it also works to improve school performance, particularly with adolescent or pre-adolescent students with the problems of emotional fragility.
The programs developed by our foundation are non-denominational and can be applied without any problem to students of different religious traditions and cultures and are adapted to the level of emotional and cognitive development of the student of different age groups and are simple enough to be implemented without any difficulty.
Emotional Education Why?
Emotional education is an educational process, continuous and permanent. The aim is to enhance emotional development as an essential complement to cognitive development, both constituting the essential elements of the development of the integral personality. -Bisquerra
Emotional education in childhood. Ability to recognize feelings of oneself and others.
Until recently, education focused almost exclusively on teaching "traditional" subjects, such as mathematics, language or science, leaving aside any aspect related to emotions. However, more and more teachers and schools are incorporating specific programs so that their students learn to know them and can manage them appropriately.
Motivation is the key to success. The combination of emotional education and meditation makes the kind nature of the human heart emerge and in this way the norms that the children themselves create are based on values ​​such as empathy, interdependence, respect for others, etc.
Emotional Education in the Classroom.
Our duty as educators is to motivate children to learn and to promote their curiosity and to respect their rhythms and accompany them in their processes without pressure and to encourage their creativity.
There is a great diversity of studies that show the importance of students being aware of their emotional competencies, such as the one carried out by John Durlak, from the Department of Psychology at the University of Chicago in 2011, and in which he compared nearly 200 schools - more than 270.000 students. This research showed that students who participated in emotional learning programs had significant advances in different areas, both in social and emotional skills, as well as in better behaviors and academic results.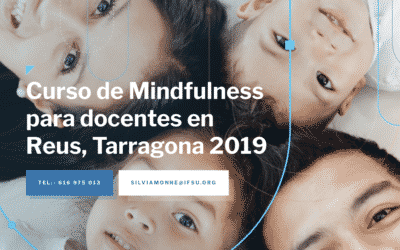 Certified Training 2019 Tarragona. Meditation course and conference in Reus. Training to implement meditation and mindfulness in the school environment. If you are a primary school teacher or have a relationship with children, this course interests you. We guide and ...
Mindfulness Educational Program
Open the registration period for the course 2018/19
A project to equip future generations with a tool to learn to live fully every day
Society and the school system in which our new generations are educated receive great pressure through various means. Social networks, internet, personal competition and pressure towards success. Our children are bombarded with a multitude of contradictory information and do not have the mechanisms to deal with such over-information from the intellectual, emotional and physical point of view. All this is combined with less social cohesion and involvement of families in the educational process.
The results are a lower school performance as well as behavior patterns associated with general attention deficit, increase in drug consumption, aggressive emotional responses such as "bullying" and lack of empathy and compassion; which entails the development of anti-social behaviors.
Through meditation and mindfulness we provide families, teachers and students with a program designed to provide each individual student with the tools to attack the problem at its source. Personal balance and the integration of actions, thoughts, feelings and emotions becomes the basis of each person's subjective personal reality.
Our program not only provides its beneficiaries with the ability to achieve states of deep relaxation and inner peace, but also provides them with emotional response tools that allow them to have options to change their responses and reactions to external situations and other experiences. Responding from the center of the person will lead to more positive results when dealing with negative situations.
The end result of this project is to produce more integrated human beings that are more beneficial to themselves and to the society in which they live.